Rump Steak with Grilled Tomato and Mash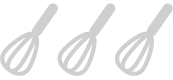 Moderate difficulty | Good source of iron
Serves 4
Ingredients
500g rump steak, trimmed of fat
4 medium potatoes, roughly chopped
3 tablespoons reduced fat milk
1 cup broccoli
2 medium tomatoes, halved
Method
Cook the steak in a non-stick frypan with the oil over a medium–high heat until cooked to your liking.

Meanwhile, boil potatoes until well cooked. Drain water from saucepan. Add milk to saucepan and mash through potatoes using a potato masher or large fork.

Boil, steam or microwave the broccoli.

Sprinkle the tomatoes, cut-side up, with mixed herbs.

Place on a sheet of foil under the grill on a medium–high heat until soft.
Smart tips
Always trim the fat off your meat before you cook it.